>> Sunday, June 1, 2014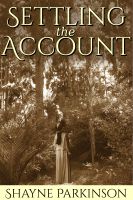 Amy watches in growing fear the worsening confrontation between her husband and her son, until she realises that only one of them can survive it. How long can she keep them apart?



The final volume in "Promises to Keep". It follows directly on from Book Two, "Mud and Gold".
About Shayne Parkinson
I write historical fiction set in New Zealand, starting in the 1880s. My fifth novel takes the series to 1918. I'm fascinated by social history, particularly that of my own country.



I live in a state of barely-controlled chaos; fortunately I share my life with an invariably calm and endlessly optimistic husband. I divide my time between an apartment in the city, in reach of good espresso, and a few acres in the country, where the rank grass in the orchard is kept under control by a small mob of sheep (and where we have our own espresso machine).



When I'm not writing, reading, or engaged in mundane activities, I play the piano rather badly.
Price: $2.99 USD