>> Sunday, September 14, 2014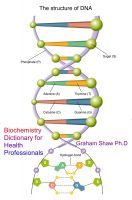 So much more than a dictionary. It contains interactive case studies, short lectures and 'high-impact' biochemistry terms that overlap with physiology, pharmacology and the clinical sciences. It is ideal for students studying for board examinations allowing them to optimize their precious study time.
About Graham Shaw
Dr. Graham Shaw graduated second in his class at Bristol Polytechnic, U.K. obtaining a first class honors degree. He received his Ph.D. from Aston University, Birmingham U.K. in 1987. He has been teaching Health Professionals since 1989 and teaching at medical school in the United States since 1999.
Price:
$9.99

USD
First 30% Sample:
epub
|
mobi (Kindle)
|
lrf