>> Saturday, September 13, 2014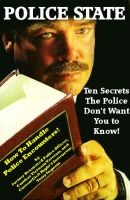 Former Decorated Police Officer, Vietnam Veteran, and current Civil Rights Instructor, Terry Ingram, reveals Ten secrets the Police don't want you to know. Terry's 40 years of experience on both sides of the fence give him a singularly unique perspective on "How to Survive Police Encounters" in this day and age. A must read for anyone trying to cope in the current Police State and more.
Finally, the truth is revealed about what really goes on inside the mind of a Police Officer. Forget about the main stream mottos like "serve and protect"; "community service"; and other boilerplate mantras spoon fed to the public by Law Enforcement Public Relation Pundits.



Take it from a 12 year Decorated Police veteran in Robbery Homicide, Vice, Intelligence, Narcotics and routine Uniformed Patrol. The Policeman is definitely no longer your friend. He is your adversary and just like the salesman who hones his skills to close the deal, the Police Officer is a very practiced and dangerous antagonist to anyone who stands in the way of the Police State.



Many Police Officers initially go into their chosen field with good and decent intentions. However, after intense paramilitary indoctrination they are soon turned to the dark side (Away from the Constitution and Bill of Rights). This is not an overstatement; those that won't be turned find themselves back on the street. Most Police Departments have a 1 year probationary period where the Officer is not protected by a "civil service contract". During that year, even the best of them are broken or discarded.



"The New Breed", that's what they called us when I attended the very "first Police Academy" in South Florida, back in early 1974. The idea was to militarize the New Breed by creating a "Boot Camp" of sorts. Believe me when I say that they have come a long way down the slippery slope since my day. I pass by the Police Academy in Davie, Florida rather frequently and see them [Police Inductees I call them] marching, standing at attention, assuming the prone position and giving the instructor 50 pushups on demand. It sickens me.



This book is a must read for anyone confronting any type of "Police Encounter" in today's Police State. It is imperative that you learn your rights, because that's the only way you're going to stop them. Whether in your car, home or out in the community, they are always there watching and waiting for you to make the slightest mistake. They are the sharks in the water and you are the bait.



We have indeed entered a new regime...
About Terry Ingram
Terry Ingram is a decorated veteran Hollywood Police Officer with twelve years' experience in Robbery/Homicide, Vice, Intelligence and Narcotics, and Uniformed Patrol. As a decorated combat Vietnam Veteran, having served his country honorably for six years, Terry founded "Law In Simple Terms", an organization which teaches the art of "Pro Per litigation". Terry developed an easy to comprehend course for laypersons which teaches the proper application of civil rights in the face of government confrontation, as well as how to negotiate the legal system without the aid or assistance of an attorney, and much more.



One of the purposes of Terry's classes is to educate government, and particularly the Law Enforcement community, about the true nature of its relationship with the American people. This is accomplished through acquired knowledge and self-representation in law suits, both civil and criminal. Government and Law Enforcement as well, use a plethora of rules, regulations and statutes to keep the citizenry in their place. For more than 20 years, Terry has simply and successfully been teaching the converse.



Terry is not an attorney, nor has he been disadvantaged, aligned, or encumbered by membership into any bar association. He has never represented anyone and teaches average people how to represent themselves. Terry has a very unique understanding of jurisprudence, having had more than forty (40) years' experience dealing with government, from both sides of the fence.



Many of Terry's students have rediscovered that "feeling of empowerment" that just one person can make a difference by learning exactly what their constitutional rights are and that government solely exists to protect those rights.
Price:
$9.99

USD
First 20% Sample:
epub
|
mobi (Kindle)
|
lrf