>> Tuesday, November 25, 2014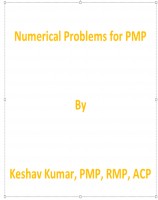 This book consist of 50 numerical problems for PMP exam and detailed answer at the end of book. These problems are relatively difficult compared to what actually PMP aspirants would come across. However, if participants are comfortable in these 50 questions, they would find numerical problems in PMP exam relatively easy.
Most of the PMP aspirants find numerical problems in PMP exam extremely difficult. This could be either because of aversion towards mathematics or lack of conceptual knowledge to decipher these numerical problems. It is very important for PMP aspirants to become comfortable with numerical problems because it could account for 15 to 20% of 200 questions. To be specific, PMP aspirants find numerical problems related to Time Management, Cost Management and Risk Management difficult to handle and rely only on formulas.



Keeping the importance of these mathematical problems for PMP Exam, these fifty questions have been created. The fifty questions in this book will test participant's conceptual knowledge of subject. Answers with detailed explanation is provided at the end. If participants are able to solve these problems, they would find problems in PMP Exam relatively easy. These fifty questions are relatively difficult compared to what actually participants would come across in exam. However, becoming comfortable with these relatively difficult problems would make participants more confident to handle mathematical problems in exam
About Keshav Kumar
Keshav is a PMP®, PMI-ACP® and PMI- RMP® certified professional with more than Fourteen years of IT and Business Management experience. Currently, Keshav is Management consultant providing project management consulting and trainings. Prior to this, Keshav was working in HSBC as Lead(AVP) for large projects and programs.
First 10% Sample:
epub
mobi (Kindle)
lrf