>> Sunday, November 30, 2014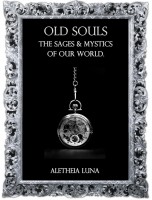 Existing as the perpetual outsiders in society, Old Souls are the teachers, counsellors, philosophers and oracles of humanity. They are both in the world, but are not quite of the world at the same time, passing through life on their own solitary paths. In this book, writer and researcher Aletheia Luna provides a compact, elegant and well-researched look into the life of Old Souls.
Have you always felt older than what your age reflects? Are you solitary, thoughtful and intuitive? Do you feel like an outsider constantly looking into a society that doesn't feel like your home? If so, you may be an Old Soul. In this concise and elegantly written book, writer, researcher and Old Soul Aletheia Luna explores the uncharted waters of the old in soul, compiling a unique repository of information about this mysterious breed of people.



Chapters in the book include:



- "It's no big deal." A Profile Of The Old Soul Character.

- "You do your thing, and I'll do mine." The Old Soul's Relationship With Family.

- Just go with the flow." The Old Soul's Relationship With People And The World.

- Soul Ages, Reincarnation and Abraham Maslow.

- "Why do I feel older than old?" The Seven Levels Of Feeling Old.

- Are You A Sage Or A Mystic?

- "Just let me be." The Old Soul Child.



... and more.
About Aletheia Luna
Aletheia Luna was born in Perth, Western Australia, the world's most isolated city. In her spare time she enjoys reading, investigating and writing about an eclectic variety of topics, having authored hundreds of articles on a host of subjects ranging from psychology and sociology, to self-improvement and spirituality. She is an introvert, empath and an Old Soul at heart. You can read more of her work at: www.lonerwolf.com
First 20% Sample:
epub
mobi (Kindle)
lrf