>> Tuesday, February 24, 2015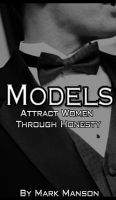 Models is the first book ever written on seduction as an emotional process rather than a logical one, a process of connecting with women rather than impressing them. It's the most mature and honest guide on how a man can attract women without faking behavior, without lying and without emulating others. A game-changer.
About Mark Manson
Mark Manson is from Austin, Texas, USA and graduated from Boston University in 2007. He began coaching men informally that same year, taking them out to local bars and helping them approach attractive women.



Mark founded Practical Pick Up in 2008 and has since worked with hundreds of men in 12 different countries and four different continents. He's given over 40 public presentations worldwide and has been interviewed for news shows and magazines.

In 2011, he changed his business to PostMasculine.com to change his focus away from simply meeting and attracting women and to help with life's issues at large.



Mark currently lives a mobile lifestyle traveling and residing across the globe. He can be reached at mark@postmasculine.com.
First 15% Sample:
epub
mobi (Kindle)
lrf