>> Saturday, March 14, 2015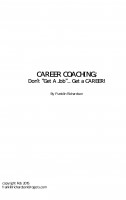 The only jobs worth having in the future will be CREATIVE positions; as more and more positions formerly done by workers are being taken over by computers. Creating, developing and following your PASSION will be most important in your CAREER. The time to start is now. This book will help you!
Your career should have a natural direction to it with its own path and pace. Too often individuals focus outwardly on trying to be what other people need or want them to be. They can get trapped into defining career success by a limited set of external markers. Career fulfillment is an important aspect of your happiness. When your professional identity is aligned with your personal identity, you will experience a greater sense of authenticity in your work and increased career satisfaction. When you are in the growth stage of your professional life, it is critical to find a mentor who can share with you the value of their experience and knowledge.
About Franklin Richardson
After 20 years as a recruiter (head hunter) and over 5 years as a business and career coach, I have decided to write a book as a legacy. My vision is that ALL PEOPLE IN ALL BUSINESSES , JOBS AND PROFESSIONS AT ALL LEVELS SHOULD HAVE ACCESS TO COACHING. My process is applicable to all of the above so it is not career or business specific. I do coaching one-on-one and I would like to expand my audience throughout Canada and the world with a book. My mission is TO HELP AS MANY PEOPLE AS POSSIBLE.
First 20% Sample:
epub
mobi (Kindle)
lrf