>> Friday, March 13, 2015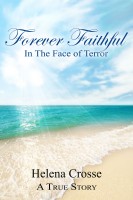 Forever Faithful In The Face of Terror is a true story of God's never failing Faithfulness.
About Helena Crosse
Forever Faithful was written in fulfillment of God's calling on Helena's life to write this book. Helena Crosse is enjoying the Sunshine State now for its beauty, and her new love for Writing. Close contact with Family and Friends, and the Forever Faithfulness of the Father!
First 15% Sample:
epub
mobi (Kindle)
lrf