>> Sunday, March 22, 2015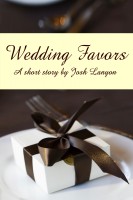 Graham thinks Wyatt would feel more secure if they were married. Wyatt doesn't want to spoil Graham's wedding plans. So who's really doing who a favor?
About Josh Lanyon
A distinct voice in gay fiction, multi-award-winning author JOSH LANYON has been writing gay mystery, adventure and romance for over a decade. In addition to numerous short stories, novellas, and novels, Josh is the author of the critically acclaimed Adrien English series, including The Hell You Say, winner of the 2006 USABookNews awards for GLBT Fiction. Josh is an Eppie Award winner and a three-time Lambda Literary Award finalist.



First 20% Sample:
epub
mobi (Kindle)
lrf