>> Friday, April 10, 2015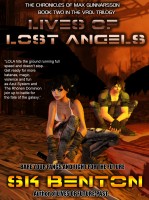 In book #2 of The Chronicles of Max Gunnarsson, our hero is lost in an alternate, post-apocalyptic, 29th century Los Angeles. Although there is a combination of magic and technology where he is, everything is a bit off. Draagh feels the key to finding Max might reside within the DNA of the young commander's father. But first they need to find the missing Archangel in order to even be sure.
Magic exists. Mankind simply couldn't access it. Centuries ago the immortal Prīmulī tweaked our genetic code and took away our ability to "touch nature", but that's all changed.



Max Gunnarsson, the offspring of a lycan female and an archangel, needs to find a way home. His family is desperately searching for him, and even he is not quite sure of his location in space/time, but he is definitely stuck. And although there is a combination magic and technology where he is, everything is a bit off. To make things worse, Len Johnson has hatched a plan and is leading The Vrol straight to Azul. But before the team can do anything they have to find Max's father, Mija-El, as he is the key to locating the lost lycan/mage.



Lives of Lost Angels continues where Lives of Future-Past left off, and doesn't miss a beat. Max is stuck in a post-apocalyptic Hollywood, everyone else is running around like crazy trying to find him, Liliana is learning devastating new magical skills (and has some new, dangerous pets) while Draagh comes up with a way to get Max back - he just needs to find someone lost to him long ago in order to make his plan work.



Retaining characters from Lives of Future-Past, as well as introducing new ones, this book is sure to keep you awake and reading with its combination of drama, intrigue, betrayal, violence and dark humor. Oh, and a touch of romance. Because lycans are sexy like that.
About SK Benton
Author, artist, extreme athlete, traveler; Steven Kenneth (S.K.) Benton grew up in Oregon - skiing, sailing, blowing things up with high-powered weapons - and then moving to Southern California as soon as he was old enough to leave home.



He has a colorful range of past jobs, including private investigator (Orange County homicide panel), professional musician, Spanish-English interpreter, Alaskan commercial fisherman and a computer graphics instructor (for Walt Disney Imagineering, Cartoon Network and CBS Television Studios), and settled on a programming career after having developed an automated radio frequency engineering application for the telecom industry - to this day still the only one of its kind in the entire world. It was at this time he felt a need to release his artistic energies, having previously set his music off to the side. Throughout the years he had created an imaginary universe in serialized blog entries, and at the suggestion of his younger daughter he recompiled these into what today is known as The Chronicles of Max Gunnarsson.
First 20% Sample:
epub
mobi (Kindle)
lrf