>> Friday, March 7, 2014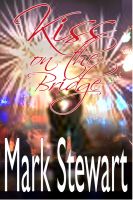 How would you react if a tall handsome stranger came up to you on new-years-eve and asked for a kiss?



Kiss on the bridge is the first book in the series.

Kiss on the bridge two is due to be released middle of October 2012.

kiss on the bridge three. due to be released 2013
Kiss on the bridge is set in the year 1974. Cyclone Tracy made land fall in Darwin on 25th December 1974 at 9:55am desecrating Darwin. After Tracy had swept the state there was nothing left except this story. Out of the ruins love sparked and mushroomed between Anneli and Wade. They were destined to meet and tell their story for decades to come.
About Mark Stewart
Mark Stewart is an acclaimed author and loves to write fiction right across the board from romance adventure to crime and onwards to science fiction. His fast paced novels keeps you on the edge of your seat from the first word to the last.

Mark lives in Melbourne Australia and tries to keep to the Auzzie lingo and customs. His only gripe is he never has enough time to feed the writing enthusiasm inside him.



Mark lives in the picturesque region of the Mornington Peninsula, a full one hour drive from Melbourne.

He's been married to his wonderful patient wife for thirty years. He has four adult children and two grand children. Everywhere he looks there's a story waiting to be told.



Contact Mark to leave a comment about one of his books or just to say gidday, (hi) he'd love to hear from you.

email: mark_stewart777@hotmail.com

All reviews are gratefully accepted.

To all the readers who follow Mark's work. Thank you.
Price: Free!
Download:
epub
|
mobi (Kindle)
|
pdf