>> Saturday, March 8, 2014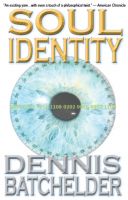 What if you could bank your money for your next life?



Smart-aleck and computer security expert Scott Waverly is skeptical of his new client's claim that they've been tracking souls for almost twenty-six hundred years.



Is it a freaky cult, or a sophisticated con job?



As Scott saves Soul Identity from an insider attack, he discovers the importance of the bridges connecting people's lives.
About dennis batchelder
I have been writing for ten years, and I've spent over twenty years in the computer security industry. I grew up in New England, and then lived twenty-five years in Maryland, except for a nineteen month stay in Hyderabad, India. Now I live with my wife, our three youngest sons, and my mother-in-law in Bellevue, Washington.



My novel Soul Identity is half techno-thriller, half existential journey. It depicts an organization that helps you leave your money and memories to your own future life. Think about a God-less, business-based take on reincarnation--and the consequences this could cause.



Soul Intent is the sequel, and it explores why people do bad things for good reasons. It's set both in Germany during the Nuremberg trials and the present day. This is an adventure tale of stealing, hiding, and recovering Nazi Gold.



I also write online travel tales, which i post at www.taleblazing.com. Check them out!
Price: Free!
Download:
epub
|
mobi (Kindle)
|
pdf