>> Saturday, March 8, 2014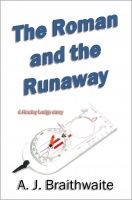 Having a good family friend as your headmaster might sound ideal, but for Luke Brownlow it just makes life even more complicated...
In with the wrong crowd at school, Luke is falling behind in his work. His parents take drastic action: banning him from seeing his friends and making him go to a new school.



Luke avoids his family over the summer by spending time with their neighbour, Ned Kelly. He decides to get expelled from his new school but changes his mind when he discovers that his new headmaster is none other than the neighbour he has been getting to know and respect.



An enemy within the school and a runaway girl outside it make it harder for Luke to stay out of trouble with Ned than he'd hoped: by the end of the school year it looks like he'll be expelled after all.
About A. J. Braithwaite
Born in England in the 1960s and emigrated to Canada in 2007, where she has a small hobby farm growing vegetables, raising chickens and occasionally finding time to write.
Price: Free!
Download:
epub
|
mobi (Kindle)
|
pdf