>> Saturday, March 8, 2014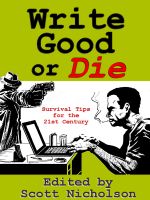 Survival tips for 21st century writers, from best-selling authors Kevin J. Anderson, M.J. Rose, Heather Graham, J.A. Konrath, Gayle Lynds, Alexandra Sokoloff, Jonathan Maberry, and more. How to develop your craft, improve your writing, get an agent, promote your work, embrace the digital age, and prepare yourself for the coming changes in the publishing industry. Edited by Scott Nicholson.
About Scott Nicholson
Scott Nicholson is author of seven novels, including THE RED CHURCH, SPEED DATING WITH THE DEAD, DRUMMER BOY, and THE SKULL RING. Other books include the novellas BURIAL TO FOLLOW and TRANSPARENT LOVERS and the story collections ASHES, THE FIRST, and FLOWERS. He also writes screenplays and children's books. Nicholson lives in the Blue Ridge Mountains of North Carolina.
Price: Free!
Download:
epub
|
mobi (Kindle)
|
pdf