>> Monday, April 7, 2014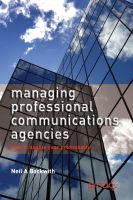 By Neil A Backwith. PR and communications agencies are consistently failing to reap the financial rewards that their creative abilities deserve. 'Managing Professional Communications Agencies' examines why PR agencies lag behind consultants in other sectors in making profit, and gives practical advice on what they can do about it.
About Public Relations Consultants Association
The PRCA is the professional body that represents UK PR consultancies, in-house communications teams, PR freelancers and individuals. The Association exists to raise standards in PR, providing members with industry data, facilitating the sharing of communications best practice and creating networking opportunities. The PRCA currently has more than 300 agency members, including the majority of the top 150 UK consultancies. It also represents over 100 in-house communications teams from multinationals, UK charities and leading UK public sector organisations.
Price: $44.80 USD
First 5% Sample:
epub
|
mobi (Kindle)
|
lrf