>> Friday, April 4, 2014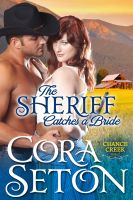 County Sheriff Cab Johnson just wants to keep to keep the peace, but Rose Bellingham seems determined to stir things up, and she's not the only one in Chance Creek keeping secrets. Can Cab keep her safe, or will an unexpected arrival to their small town destroy their chance at happiness?
When county sheriff Cab Johnson gets a hunch, he's learned to trust it, and his hunch tells him Rose Bellingham is in a peck of trouble. Bad enough he's in love with her, bad enough she's already engaged to Jason Thayer. He's got to figure out what she's hiding before he loses her for good.



Rose can't stand one more person meddling in her business, even if that person is a handsome, eligible sheriff. She's been controlled for far too long. But since her fiancé's father is both her boss and landlord, she can't dump Jason until she's got somewhere to run. She's found the perfect place: a patch of forest outside town. But with Cab watching her every move, she's hard pressed to finish her hideaway so she can make her escape. Meanwhile, she's not the only one with problems. Can she find a way to help her friends, too?



Just when Cab solves one mystery, more pop up. Where does Rose keep disappearing to? What's wrong with Mia Start? Why is Hannah Chatham lying to her fiancé? At least he's let Rose know he's interested. And if he's not mistaken, she's interested, too.



Rose's hideaway is perfect, until her friends invade it to escape their own troubles. Can she trust them to keep its whereabouts a secret? Does she want to hide from Cab anymore? Now that Jason's out of the picture, is it safe to follow her heart?



When two unexpected visitors arrive with secrets of their own, Chance Creek must brace for its deadliest night ever. Can Cab figure out the connections between all the mysteries fast enough?



Or will Rose and her friends pay the ultimate price?
About Cora Seton
Cora Seton loves cowboys, country life, gardening, bike-riding, and lazing around with a good book. Mother of four, wife to a computer programmer/eco-farmer, she ditched her California lifestyle eight years ago and moved to a remote logging town in northwestern British Columbia.



Like the characters in her novels, Cora enjoys old-fashioned pursuits and modern technology, spending mornings transforming a neglected one-acre lot into a paradise of orchards, berry bushes and market gardens, and afternoons writing the latest Chance Creek romance novel on her iPad mini. Visit www.coraseton.com to read about new releases, locate your favorite characters on the Chance Creek map, and learn about contests and other cool events!
Price: $3.99 USD