>> Friday, April 4, 2014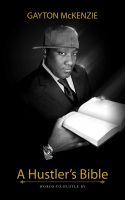 In 2003, Gayton McKenzie was released from prison in Bloemfontein after a long jail term. Like most ex-convicts he had no money and very big dreams. He went on to become South Africa's most highly paid motivational speaker and a successful businessman and mining consultant earning millions.

Here are his stories and life lessons that will speak to anyone wanting to make it against the greatest odds
Things may come to those who wait, but only the things left by those who hustle.



- Abraham Lincoln (1809-1865), sixteenth president of the United States



Ten years ago, in 2003, Gayton McKenzie was released from maximum-security prison in Bloemfontein after a long jail term. Like most ex-convicts he had no money and very big dreams. Unlike most ex-convicts he went on to become South Africa's most highly paid motivational speaker, a bestselling co-author of an autobiography, a successful businessman and a mining consultant earning millions.



He did this despite only having matric and a violent criminal record. To many, what he achieved should have been impossible.



But hustlers succeed not because of anything. They succeed despite everything.



The McKenzie story is unique, but there are so many universal truths behind it that a book like this will speak to anyone who has ever been serious about following a seemingly impossible dream.
Price: $14.95 USD