>> Tuesday, May 20, 2014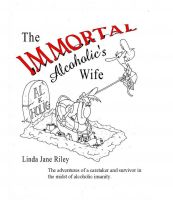 The journey from childhood to the present of a woman who becomes the caretaker of her estranged alcoholic husband. She believes he is dying and gives him a soft place to die. As she waits, she begins to believe he is immortal.



This book is a roadmap through the maze of alcoholic insanity. It contains easy to understand medical information; humorous scenarios; family dynamics;and a bit of romance.
Linda Jane is from an era when women were nurturers and men were hunters. She learned very early in life to take care of the old, young or sick family members. When she left home, she had no intention of being a caretaker ever again. She married a Navy man, Riley, and supported him in every aspect of military life. But, when his alcoholism became too insane, she left him.



Fifteen years later she makes a difficult choice to take care of her estranged, near-death, alcoholic husband. It was not an easy decision, but, for her, it was the only right decision. After all, she thought, it's only a short detour in my life. How long could he really last?



Linda Jane waited for Riley to die while taking care of his every need. She waited. But when he would just get to the end, he would miraculously survive. He seemed to be immortal. She dubbed him The Immortal Alcoholic.



She struggles with the moral and legal issues of trying to keep him alive, or letting him die, while he clearly states he would rather be dead than sober. Linda Jane seeks help and/or advice but receives very little from medical professionals and family. She finds the strength she needs from comments to the blog she creates (Immortal Alcoholic) that she hoped would connect her to others in her situation. The comments inspire her to create a support group. She writes this book, The Immortal Alcoholic's Wife, and a Workbook for Caretakers of End-Stage Alcoholics. She learns to find her passion in writing and helping others through her experiences, disappointments, frustrations and humor. In spite of caretaking an immortal alcoholic, she is thriving.



This book is her journey from childhood through Riley's hospice. It shares the knowledge she gains and the frustration from being inside the insanity.



Anyone with an alcoholic in their life will find this book helpful, humorous and encouraging. Readers will find this book as a road map through the maze of alcoholic insanity.
About Linda Jane Riley
A native of the San Francisco Bay Area, I grew up in a small rural farming community about 6O miles from the city. Having married a sailor, I've been fortunate to have experienced life on both sides of the USA - East Coast and West Coast.



I'm just a woman without any alphabet soup after my name. I have been through an educational experience better than any university could offer. I'm the wife of an alcoholic who as been at end-stage for more than several times over the course of ten years. I keep being told the end is near, but he's still alive.



Two children, one grandson, and two great-grandbabies have blessed my life. I don't want to forget about my furry, four-legged children, my dog and cat. I love them all. They keep things busy and interesting.
Price: $12.99 USD
First 15% Sample:
epub
|
mobi (Kindle)
|
lrf