>> Tuesday, June 17, 2014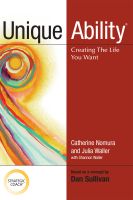 by Catherine Nomura & Julia Waller.

What would your life be like if you could get to the essence of who you are and what you're about? What if you could focus on doing what you're best at and love to do most? This book contains a complete process that will help you identify your Unique Ability, then immediately put it to work in your life.
About Catherine Nomura
Catherine Nomura has spent more than 15 years helping entrepreneurial individuals and organizations grow through coaching, consulting, strategic planning, and product development. She joined Strategic Coach® in 1998 with a master's degree in development studies, an MBA in entrepreneurship, and a passion for promoting entrepreneurial thinking as a way for people to take control of their futures. A member of the company's core strategic leadership team, Catherine envisions and guides the creation of new products, strategic relationships, and forms of communication to spread Strategic Coach wisdom to new audiences. She is co-author of The Laws of Lifetime Growth, which has sold over 100,000 copies worldwide, and Unique Ability®: Creating The Life You Want.
Price: $15.95 USD
First 20% Sample:
epub
|
mobi (Kindle)
|
lrf