>> Wednesday, October 15, 2014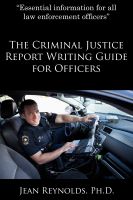 Learn the skills needed to write efficient and effective criminal justice reports: interviewing, organizing, drafting, revising, objectivity, sentence skills, active voice, bullet style, common usage errors, and the specialized vocabulary needed for police and corrections reports. Sample reports are included, along with abundant exercises, a pre-test, a post-test, and a complete answer key.
About Jean Reynolds
Dr. Jean Reynolds is Professor Emeritus at Polk State College in Winter Haven, Florida, where she taught English for over 30 years. She is the author of ten books, including two writing textbooks, and she is co-author (with the late Mary Mariani) of "Police Talk" (Pearson).

She has taught basic education to inmates and served as a consultant on communications and problem-solving skills to staff in Florida's Department of Corrections. At Polk State College she has taught report writing classes for recruits and advanced report writing and FTO classes for police and correctional officers.

Jean Reynolds holds a doctorate in English from the University of South Florida and is an internationally recognized Shaw scholar. She is the author of "Pygmalion's Wordplay: The Postmodern Shaw," and the co-editor of "Shaw and Feminisms: Onstage and Off," both published by the University Press of Florida.

She is an accomplished ballroom dancer. She and her husband, garden writer Charles J. Reynolds, live in Florida, where they enjoy reading and traveling.
Price:
$11.99

USD
First 20% Sample:
epub
mobi (Kindle)
lrf