>> Friday, November 7, 2014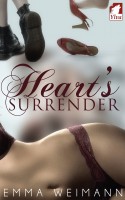 Neither Samantha Freedman nor Gillian Jennings are looking for a relationship when they begin a no-strings-attached affair. But soon simple attraction turns into something more.

What happens when the worlds of a handywoman and a pampered housewife collide? Can nights of hot, erotic fun lead to love, or will these two very different women go their separate ways?
About Emma Weimann
Emma Weimann knew at an early age that she wanted to make a living as a writer. She knew exactly how and where she wanted to write the books that would pay for her house at the beach and the desk with a view of the ocean.



Even though she has had those dreams for over thirty years now, neither the house nor the desk exist. Not yet. But she's making a living producing books, not just as a writer but also as a publisher, establishing Ylva Verlag and its international pendant, Ylva Publishing, in 2011 and 2012.



As a writer, she has published some short stories and one novel.