>> Wednesday, November 26, 2014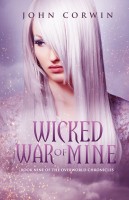 Daelissa is in Seraphina gathering her army. Justin and his allies might be able to end the war if they can shut down the Grand Nexus before she returns.
TIME FOR PAYBACK



Daelissa's attack on Queens Gate dealt Justin and the resistance a serious blow. The loss of his home and one of their strongest allies seems to mean certain defeat.



Justin isn't about to give up. He embarks on a mission to bring the houses of Daemos to his side and seeks help from Fjoeruss, Mr. Gray himself, even if the odds of success are slim.



As if the pressure isn't already high enough, Justin discovers something even more troubling. Daelissa is already in Seraphina. One silver lining remains: Justin might be able to end the war in one blow if his forces can disable the Grand Nexus before she returns with a Seraphim army.



If the good guys can't shut down the Grand Nexus in time, Daelissa will unleash a can of whoop-ass on Eden the likes of which has never been seen.
About John Corwin
John Corwin has been making stuff up all his life. As a child he would tell his sisters he was an alien clone of himself and would eat tree bark to prove it. For John, making stuff up was about one thing: teasing his sisters.



In middle school, everything changed. A class assignment to string random words together into a coherent story led to the birth of Fargo McGronsky, a young boy with anger management issues whose dog, Noodles, had been hit by a car. The short story was met with loud acclaim from classmates and a great gnashing of teeth by his English teacher. At this point, our esteemed author realized that making stuff up had broader uses.



Years later, after college and successful stints as a plastic food wrap repairman and a toe model for several well-known men's magazines, John once again decided to put his overactive imagination to paper for the world to share.



In 2009 John started work on No Darker Fate after having a bizarre dream. During the course of the day he morphed the dream into the outline for a complete novel.



No Darker Fate is his first published work.
First 20% Sample:
epub
mobi (Kindle)
lrf