>> Wednesday, December 10, 2014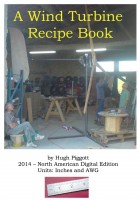 For the first time the Wind Turbine Recipe Book is available for North American readers (using inches and AWG wires) in ebook format. The Recipe Book covers all aspects of building wind turbines in a range of sizes. These proven designs combine simplicity with efficiency and reliability. These turbines are used to all over the world to provide electricity using local manufacture.
This is the June 2014 'English' units edition of my 'Wind Turbine Recipe Book'. It describes in detail how to build a turbine in each of six sizes from four foot diameter to fourteen foot diameter. The Recipe Book has become a classic for small wind turbine builders worldwide and has been translated into six other languages since it was first published in 2008. Every detail of carving blades, winding coils and assembling complete turbines is covered. These are real wind turbines that actually stand up to real world use, charging batteries or even connected to the grid via suitable inverters.

This edition is fully updated with numerous new ideas and refinements that did not appear in the older editions.

There are several sections of general interest, but most of the book is very specific to the stages of construction, and has dimensions for each size of turbine tabulated alongside diagrams and text. At the end you will find a set of basic drawings of the four main types of head for the turbines.

This 'English' units edition is for readers who prefer to work in inches rather than millimetres, and it is based on using a magnet block size 2" x 1" x 1/2" because this size is more readily available in North America. Do not use metric (46 x 30 x 10mm) magnets with the inches dimensions in this book, or inches-sized magnets with the mm dimensions in the other, metric edition.
About Hugh Piggott
Born in 1952, educated in Edinburgh and Cambridge. I have lived off-grid on the remote Scoraig peninsula in the Scottish Highlands since the mid 1970s. I have designed and built a lot of wind turbines, and also teach courses and write books so that others can learn how.

I am still very active building, installing and maintaining wind, hydro and solar systems for neighbours and other clients.

A number of organisations around the world have adopted my designs and teach courses themselves or build wind turbines. (http://www.windmepowerment.org) I spend a lot of time helping people with their projects and answering questions over the internet. I rely on sales of my books for income but to a large extent my work has become "public domain" or "open source" which is great so long as I continue to make some kind of income.
First 20% Sample:
epub
mobi (Kindle)
lrf