>> Thursday, December 11, 2014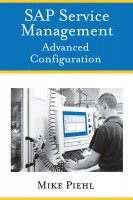 This books picks up where You Successful Implementation Guide left off. It includes additional scenarios and addition pieces of configuration. It is the must have book if you want to go deep into SAP Service Management.
This is the follow up to my first book on the successful implementation of SAP Service Management. This guide picks up where my first book left off. It begins to cover even more of the Service Management Configuration. It also includes several new scenarios including:

* Third Party Repairs (without Warranty Claims)

* Variant Configuration for Service Management

This guide will give you the tools you need to move beyond the initial implementation, and into the realm of advanced service management.
About Mike Piehl
Mike's SAP Expertise is in Customer Service/Service Management, Variant Configuration and Sales Distribution. Mike focuses on the technical development of SAP applications using ABAP, ABAP Objects, BSP and ABAP Web Dynpro. Mike began working in SAP in 1995 as an intern who needed to learn how to implement Variant Configuration in R/3 3.0F. Mike worked at SAP and Deloitte before becoming an independent consultant.

Mike created Paper Street Enterprises (PSE) in 2006 with a mission to provide the best consulting knowledge in SAP Service Management and Variant Configuration. PSE focused on helping small to midsized manufacturing companies implement and streamline their service and engineering processes. Mike has worked in the mining equipment, telecommunications equipment and high tech manufacturing industries to realize the full potential of SAP Service Management and Variant Configuration.

In 2008, Mike began the journey into application design. The first application, called Rapier, provided an out of the box customer self-service SM website using BSP technology. Mike became an SAP Partner in 2011 and received his first ABAP Add-on SAP certified. Since then, he's led the development of SAP applications has evolved into a suite of products called Renovation that focuses on simplifying and streamlining the Service Management processes. Renovation includes a Service Management dashboard, and multiple other applications to make using SAP SM easier. Renovation continues to grow and evolve into the premier Service Management application suite.

In 2012, Mike (Paper Street Enterprises) and Mike Golden (Discrete Manufacturing) created the joint venture of JaveLLin Solutions, LLC. Mike Piehl is the Chief Technical Officer, responsible for all the systems and development initiatives. He is the expert in Service Management and Variant Configuration.
First 15% Sample:
epub
mobi (Kindle)
lrf