>> Saturday, March 7, 2015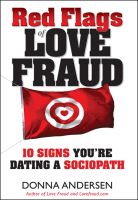 Charisma, charm, so much in common and sexy too - is your romantic interest a dream date, or a sociopath? Millions of these social predators live among us, and they don't look or act like serial killers. Rather, they present themselves as the love you've been waiting for all your life. This book identifies the clues and patterns of behavior that may indicate your partner is actually an exploiter.
You're in a romantic relationship. It started out as a whirlwind of attention and affection, but now you have a gnawing fear that something is terribly wrong.



Or you were in a relationship that was verbally, emotionally, financially or even physically abusive. That person is gone now, but you still don't know how you fell into it, and you're scared it will happen again.



Or someone you care about is hooked up with a partner who worries you. You can't understand how your friend or relative got involved, and why he or she doesn't leave.



In all of these situations, the person causing the problems may be a sociopath. No, sociopaths are not all deranged serial killers. But they are the most destructive people on earth—and few of us know they exist.



Red Flags of Love Fraud explains exactly what a sociopath is. It outlines the top 10 warning signs of sociopathic behavior, and what you should do if you see them. You'll learn:



• Why sociopaths seem to be your soul mate

• The real risk of online dating

• How sociopaths seduce you

• Why there's no such thing as "just sex"

• Why you can become addicted to a sociopath

• How to end the relationship safely

• How to protect yourself from human predators



Donna Andersen, author of Red Flags of Love Fraud, based this book on her personal experience—and on the experience of thousands of people who recounted their involvements with sociopaths in two Internet surveys. It is the most comprehensive description of sociopathic relationships ever produced. And in explaining how sociopaths seduce their targets, and why people fall for the deceit and manipulation, Andersen draws upon the work of top experts in the field.



Red Flags of Love Fraud tells you, in clear, straightforward language, how to spot and avoid sociopaths. If you've already tangled with one of these social predators, the book will show you that you're not alone. And it will help you understand what happened, so that you are never victimized again.
About Donna Andersen
Donna Andersen is author "Love Fraud—How marriage to a sociopath fulfilled my spiritual plan." She is also author of Lovefraud.com, a website and blog that teaches people how to recognize and recover from sociopaths. Her new book is "Red Flags of Love Fraud—10 signs you're dating a sociopath."



Donna learned about sociopaths the hard way—by marrying one. James Alwyn Montgomery, originally of Sydney, Australia, met her and quickly proposed in 1996. In two and a half years, Montgomery defrauded her of $227,000, cheated on her with at least six women, fathered a child with one of them, and then, 10 days after Andersen left him, married the mother of the child. It was the second time he committed bigamy.



This man had no conscience, no empathy and lied prolifically—which Donna learned, far too late, were the cardinal signs of a sociopath. In 2005, Donna launched Lovefraud.com to educate the public about this destructive personality disorder.



Lovefraud.com now receives almost 2,000 visits every day, and is considered the best source on the Internet about sociopaths. Donna has collected more than 3,000 cases of people targeted by sociopaths, and the Lovefraud blog has evolved into a healing community of survivors. Donna receives many e-mails thanking Lovefraud for saving their lives.



Donna has worked as a freelance copywriter since 1983, and was the original editor of Atlantic City Magazine from 1978 to 1982. She graduated summa cum laude from the Syracuse University's S. I. Newhouse School of Public Communications in 1978. While at college she co-founded a student magazine and worked at the student newspaper, the Daily Orange.
First 8% Sample:
epub
mobi (Kindle)
lrf