>> Tuesday, March 10, 2015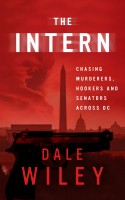 It's 1995. DC intern Trent Norris is loving life. But things change quickly and overnight, Trent finds himself the prime suspect in two murders. Overnight he becomes the most wanted man in America. He finds a way to hole up at The Watergate on a senator's dime and enlists a comely call girl to do his bidding. Can The Intern find his way out of this mess? A classic DC thriller with a comic flair
It's 1995. Things are going great for new Washington, DC intern Trent Norris. He's out on his own, he's found a fabulous woman to date, and if he doesn't love his internship, he doesn't hate it either. Life is nice.



But things can change in a moment in DC, and Trent finds himself the prime suspect in two murders and a slew of other crimes. Overnight he becomes the most wanted man in America.



Trent has to find a way -- any way -- out. He finds a way to hole up at The Watergate on a senator's dime and enlists a comely call girl as his unwitting ally. But with the media eating him alive, he knows he doesn't have long before they catch up with him. Can The Intern find his way out of this mess?



From tony clubs in Georgetown to Capitol Hill murders, The Intern has all the twists and turns of a classic DC thriller, with an added comic flair.
About Dale Wiley
Dale Wiley has had a character named after him on CSI, owned a record label, been interviewed by Bob Edwards on NPR's Morning Edition and made motorcycles for Merle Haggard and John Paul DeJoria. He has three awesome kids and spends his days working as a lawyer fighting the big banks.
First 20% Sample:
epub
mobi (Kindle)
lrf