>> Friday, April 3, 2015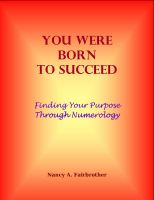 Discover your life purpose – no lists, no tests, no doubt! Your divine plan for inner and outer success is hidden in your name and birth date. This book will show you, in easy steps, how to reveal your divine plan for creating the life you've always wanted. Your untapped potential is waiting to be discovered!
A very special kind of numerology, called Chaldean (Kal-dee-an) numerology, quickly and easily reveals the life you were born to live. Use this step-by-step guide to create the life you've always wanted.



Quickly and easily re-discover your life purpose by following the simple, step-by-step process revealed in this book. Connect with your spirit, the source of your inner wisdom.



Reduce your stress levels, live life loving yourself just as you are, live your own dreams – not someone else's, discover your ideal job, enjoy your innate talents, use your challenges to create even more success, discover the adventures that await in your future.



This book can change your life. It provides the quickest, easiest way to get you started on your divine path. Statistics show that people who live their purpose are happier, healthier, and live longer than those who don't. Are you ready?
About Nancy Fairbrother
Nancy Fairbrother is a psychotherapist who has been practicing for more than 30 years. Educated in soul-centered psychology, esoteric practices, and energy healing, she used modalities from all three fields in her counseling practice. She found that numerology and other esoteric processes directly access the soul and developed a simple, step-by-step method for discovering one's life purpose using Chaldean numerology.



Nancy's research and practice led her to the conclusion that all physical disease and emotional trauma are caused by disconnection from one's soul. Learning to access their soul's wisdom enabled her clients to move through trauma faster and resolve issues, as opposed to merely learning to cope.



She now specializes in helping people re-discover their life purpose.
First 20% Sample:
epub
mobi (Kindle)
lrf