>> Thursday, March 6, 2014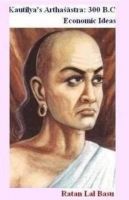 This book delineates all the economic ideas embedded in the Arthasastra composed around 300 B.C. in India by Kautilya, a great Brahmin scholar and the Prime Minister of the Maurya king. To enable free reading the English translations of the supporting excerpts from the original text has been relegated to the end of the book under 'notes'.
About Ratan Lal Basu
ADDRESS: Kolkata, India



EDUCATION



Ph. D. in Economics

Profession: Retired from 1st January, 2009 from the post of Reader in Economics and Teacher-in-Charge, Bhairab Ganguly College, Kolkata, India



Price: Free!
Download:
epub
|
mobi (Kindle)
|
pdf