>> Sunday, March 9, 2014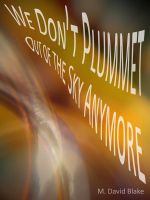 "If I were editing a magazine I would be seriously considering buying this story for publication—but I'm not, so I can't. Sorry."



— Bruce Bethke, author of "Cyberpunk" and Headcrash

. . .

Stan wanted a flying car. No, that wasn't quite accurate... Stan wanted a nice flying car, and the quantities of bliss that purchase would bring. Stan desired bliss.



Fortunately, Bliss also desired Stan.
About M. David Blake
M. David Blake lives in Hillsborough, NC with his wife and daughter. By day he is a stay-at-home father and househusband. In college, he utterly flunked a study of science fiction, and before college, he periodically reassembled the shattered skulls of murder victims. Currently he serves as an associate editor for Stupefying Stories, and a slush reader for Fantastic Stories of the Imagination.



He is currently eligible (on both the 2012 and 2013 Hugo ballots) for the John W. Campbell Award for Best New Writer. You can read his Campbell-qualifying work, "Absinthe Fish," at his website.



Website : http://www.vintageseason.com/

Google+ : http://gplus.to/MDavidBlake
Price: Free!
Download: