>> Monday, April 7, 2014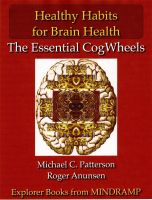 Protect your brain from decline and dementia. Learn what current brain research reveals about practical steps you can take to keep your brain healthy and your mind performing up to its potential. Authors Michael C. Patterson and Roger Anunsen explain their "CogWheels of Brain Health," six key areas you need to address to keep your brain healthy and you mind sharp.
Protect your brain from decline and dementia. Take steps -- right now -- to protect the physical architecture of your brain and to stimulate your mind to operate at full capacity.



No, you won't be told about a magic pill, a new wonder drug or a jazzy new computer program. What this eBook offers you is a review of current brain research, organized around six key areas that impact the health and proper functioning of your brain -- what authors Patterson and Anunsen describe as the "CogWheels of Brain Health."



While brain and aging researchers have had little success finding a wonder drug that can "cure" cognitive decline or dementia, they have made great strides in identifying what can be done to prevent or slow the deterioration of our mental abilities. We now know how to stimulate positive "plastic" growth and development of our mental capacities throughout the lifespan. Patterson and Anunsen, co-founders of MINDRAMP CONSULTING, a pioneer in the field of brain health, organize and explain current research in each of the key areas and show how they work together to keep your brain healthy and your mind sharp.
About Michael C. Patterson
Michael C. Patterson and Roger Anunsen are the co-founders of MINDRAMP CONSULTING which provides clients with dynamic educational programs, presentations, training workshops and consultation designed promote brain health and enhance mental development through creativity and the arts.



Michael is an author, educator, writer, speaker and gerontologist specializing in brain health, creativity, the arts and longevity. Patterson is an adjunct professor at Johns Hopkins University where he has taught courses on the prevention and treatment of dementia, and the creative arts and brain health. He is an executive board member for the National Center for Creative Aging and serves on numerous advisory boards including the Research Center for Arts & Culture. Patterson ran the award-winning Staying Sharp brain health program at AARP developed numerous projects for PBS and was a founding member, actor and director with the Bear Republic Theater.



Roger Anunsen hosts the cable TV series "Your mindRAMP to Brain Health," is the creator of MemAerobics©, Animal Congregations© Cards and Memory Mining© and teaches a college gerontology course in Portland, Oregon entitled: "The Mature Mind." He was appointed as a voting delegate to the 2005 White House Conference on Aging, has designed brain wellness programs as a consultant for AARP and is a multiple-year presenter at the ASA-NCoA and McGinty Alzheimer's Conferences. Anunsen's educational methods were presented at the inaugural Global Conference on Aging at Oxford, UK.
Price: $7.99 USD
First 20% Sample:
epub
|
mobi (Kindle)
|
lrf