>> Thursday, May 15, 2014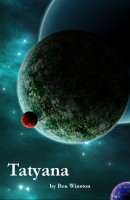 After a plague wipes out life on Earth, the survivors try to save the race. However, the agency formed to save humanity is bent on control of the survivors. Hugh and Jenna are two humans saved from Earth by cryogenic suspension. After they are revived, they are swept up into the struggle to save the race.
In an effort to save the race, and fleeing a dying Earth, Hugh Goodwin and his family enter Cryo-Stasis so they can be safely evacuated from a plague riddled planet. They are revived over a century later to a very different world. A world where breeding is controlled and regulated by a corrupt and omnipotent cabal of beings that no longer consider themselves to be human. Once again, Hugh needs to flee, only this time, he is taking the tools he'll need to not only start over, but try to stop the sadistic murderers bent on controlling the remainder of the human race.
About Ben Winston
Ben Winston (1965 - ?) was born in Iowa and grew up in Minnesota on the family dairy farm. Upon reaching adulthood, he joined the United States Army as a communications technician. Before getting out of the military, he decided to go to school for computer electronics.



Shortly after getting out of the military, and after getting a new job with an over-seas company, he was diagnosed with Crohn's Disease. A month after beginning the new job, he was laid off due to budget over-runs on the project he was hired for. Upon returning to the United States, he had difficulty maintaining employment because of the chronic illness.



He began writing as a form of stress release, from being home bound and not being able to work, and found he liked writing erotica. Ben wrote a trilogy called the Talosian Chronicles (Currently in rewrite to remove the graphic sex and finalized his vision of the story). The first book, Star Dancer, won awards and was nominated for many others by the online communities where it was posted.



Ben Winston returned to school for literature, after completion, he began writing professionally. Being an avid fan of science fiction he focused on this genre. He was, and still is, influenced and inspired by Gene Roddenberry, Anne McCaffery, David Weber, Isaac Asimov, and Ray Bradbury. Some of his favorite movies and TV shows are; Battlestar Galactica (both versions), Andromeda, Star Trek, Firefly, Star Wars, and many of the B-rated movies that were actually box-office bombs.
Price: $5.99 USD