>> Thursday, March 12, 2015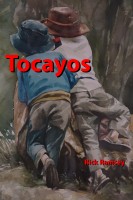 Set in the pastel-painted fishing villages of Peru's Pacific coast and the apocalyptic barriadas surrounding Lima, among the barren mountain towns of the Andes and the joyful haciendas of Peru's coastal desert, Tocayos is a story of fear and courage, of passion and betrayal, of a boy who must choose how he will become a man.
I am Carlos. I sit under the red umbrella on top of the wooden tower painted white, searching the waves with my binoculars. The waves arrive in many shades of blue. When the light from the sun is just right and the water is clear, the color can be so beautiful it breaks your heart.



I also have a whistle, a baggy red bathing suit, a round hat, and a jeep for chasing the seagulls off the beach in the evening, when most of the people have gone home.



Yes, I am the one who was in the newspapers. When everyone was calling the helicopters, I was swimming into the big waves to pull out the people who should not have gone into the water. That day I pulled out six people. The mayor of Malibu Beach, he gave me a medal. He called me a hero, a man of courage, and then he talked for thirty minutes. I am not a hero. I am not a man of courage. I am simply not afraid.



They are different things, no?
First 20% Sample:
epub
mobi (Kindle)
lrf