>> Friday, March 7, 2014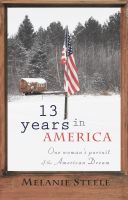 The powerful story of one woman's search for happiness and fulfillment in modern-day America.
After moving to the United States from Canada in 1998, a free-spirited young woman rejects the status quo and embarks on a journey to discover what it means to be truly happy and fulfilled in the Land of Opportunity.



Her 13-year search spans half a dozen states, a bunch of fearless adventures, and ever-increasing crises, divisions, turmoil, and discontent. Through it all, she holds on to her fearless pursuit of happiness and fulfillment against ever-decreasing odds.



13 Years in America is a moving personal journey and a sharp, hard look at the American Dream.
About Melanie Steele
Melanie is a writer, artist, and free-spirit who lives with her husband and daughter in Minnesota. To contact her, please send an e-mail to: Melsteele.writer@gmail.com. She'd love to hear from you!
Price: Free!
Download:
epub
|
mobi (Kindle)
|
pdf