>> Friday, May 16, 2014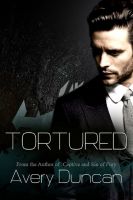 Taken and tortured because of a jealous uncle, Shyloh knows the worst of the worst.



Months later she is free and trying to get on with her life, while hiding from the ones who took her innocence and family.



Zeke notices the new girl the second she walks into the class room-- and the shadows in her eyes.



He makes it his goal to protect her...then save her when danger strikes.
She made a sound and he shivered. It sounded like a wounded animal. No, it sounded more than that; like someone fighting to live.



After being brought into a sadistic hell, Shyloh is struggling out of the emotional and physical aftermath as well as her fear of being found once again. She can barely stand people passing by her, and although she is close to her brother, she can hardly stand his helping hands. She enrolls in school, deals with her brother, and also...Zeke. He is the kind of guy you want to avoid for fear of getting your neck snapped, but he takes an instant liking to Shyloh… His father and some teachers at the school play an interesting role in Shyloh's past. People are still out to get her and same as before, she is betrayed by someone who she had thought she could trust. But is anything ever as it really seems?
About Avery Duncan
Avery is a soon-to-be #1 New York Times bestelling author of erotica paranormal and contemporary romance. She lives in Nevada with her incredibly supportive online team and her beloved animals.



Avery began writing long before the exposition of her most famous title to date, Captive. Writing has always been her passion and creating creatures with no true name and the women that fall for them is what she considers a great way to live. When not writing, Avery is reading. Her idea of heaven is a whole day of nothing and well... maybe a good cup of Joe.



She is best contacted through the following ways:



FaceBook: daktakable



Twitter: @dakerpee



Wattpad: @dakerpee



Avery Duncan reads all mail, but due to the volume she receives, she is not always able to respond -- although she appreciates all the kindness and support every one of her fans give!



-Credit goes to Crymcyn-
Price: $4.99 USD
First 12% Sample:
epub
|
mobi (Kindle)
|
lrf