>> Monday, March 10, 2014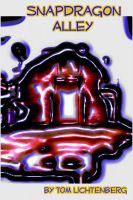 Ten year old friends Alex and Sapphire discover something strange on the city bus map, a street that existed for only one year. As they set out to solve the mystery, they encounter the possibility of another world, another dimension perhaps, in a vacant lot, but they are not the only ones on the trail. Who will discover the truth, and who will pay the price? Book One of the Dragon City series.
About Tom Lichtenberg
"Author of curiously engaging novellas. His stories are not driven by action but by mood and metaphysics. His premises often begin with fairly standard, often vaguely science-fiction concepts, but he spins those concepts out into melancholy, thoughtful tales in which he explores the emotion and (often) dislocation that people feel when confronted by something outside their normal experience." - Devon Kappa
Price: Free!
Download:
epub
|
mobi (Kindle)
|
pdf