>> Wednesday, May 14, 2014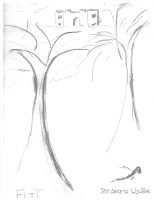 In her world, a seventh-grader was about to start school. Swept into a fairy world, she's about to start war.
Twelve-year-old Lunar Marrowstern isn't afraid to die. After she learns she has ovarian cancer, Lunar's only fear is being the left behind kid at school and having to spend another year at home with her parents.

Mr. and Mrs. Marrowstern also aren't afraid their only daughter is going die, as far as Lunar can tell. Aside from some dramatic sobbing, they appear more concerned about Monty and Jack, her two older brothers, than how Lunar's handling both the intense chemotherapy, and the realization she'll have to go into the seventh-grade bald, skeletal, and friendless.

Friendless, until Barnacle, a flying red cat, and Sprigmont, a horned blue bear, appear in her hospital room to slap the self-pity out of her. The first true companions she's ever had, the cat and bear help her stomach her food and pull out the last of her withered hair. But they fail to mention they're hunted in their own world, which is why their appearance changes from healthy to haggard in a few weeks. And in their world, someone finally realizes the value of hunting and capturing Lunar.
Price: $5.99 USD
First 2% Sample:
epub
|
mobi (Kindle)
|
lrf