>> Wednesday, March 5, 2014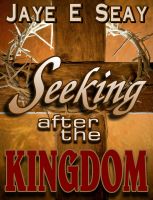 This ebook includes five devotionals that will encourage you and build your faith. Topics covered include prospering where you are planted, seeing from heaven's perspective, the power of the Word, the importance of prayer and how nothing is impossible for God. Let these devotional messages be your five smooth stones (1 Samuel 17:40). Use them to take down the giants in your life.
About Jaye Seay
Jaye E. Seay is a Christian writer, specializing in devotional messages. Jaye is a graduate of both Hampton University and Howard University. Jaye is also a student at Rhema Correspondence Bible School.



Jaye's mission is to inspire faith and provide encouragement through the Word of God. Jaye's devotional messages and Christian books are an outgrowth of his tremendous love for God. Jaye is blessed to share what he has learned from his study of the Bible through a writing ministry. Jaye sincerely hopes that his writing will have a giant impact in the Kingdom of God.
Price: Free!
Download:
epub
|
mobi (Kindle)
|
pdf